Introducing TinEye Imagemaps
As our TinEye fans know: our TinEye index grew beyond 2 billion images as of a couple of weeks ago. Now it is time for us to focus on going beyond just crawling to grow our index, by involving you (our content partners) and adding your image collections to the TinEye index.
A goal of TinEye is to help you find the author of an image, where it came from, where it is being used, where you can find additional images from the same author, where you can license the image or any information that you will find useful about your search image. So being able to grow our TinEye index by accepting contributor imagemaps will get us closer to this goal.
We are also working on having contributor images shown at the top of TinEye result pages. This makes it much easier for our users to identify important sources for the images they are looking for.
Today we are introducing the TinEye imagemap. This is a beta release.
What is a TinEye Imagemap?
It is a file that a site's webmaster creates to tell TinEye's crawlers exactly where to find all the images on the site.
Today, image collections from iStockphoto, Getty Images, Photoshelter, Masterfile, F1 online, wikipedia and more have been included in the 2 billion TinEye image index. If you own or manage an image centric website, we would like to add your images as well. Become familiar with our TinEye imagemap requirements and complete the imagemap submission form for consideration.
Please note that for the duration of our TinEye imagemap beta, submission priority will be given to:
stock photography and editorial image collections
art and illustration collections available for licensing
archival and historical image collections
creative commons image collections
As this is a beta release, we appreciate your comments, questions and suggestions. Happy searching!
And no, we have not forgotten about all of our TinEye fans: once we get more feedback with this beta release of our imagemaps, we will start accepting your imagemap submissions and not just stock photography and large image collections.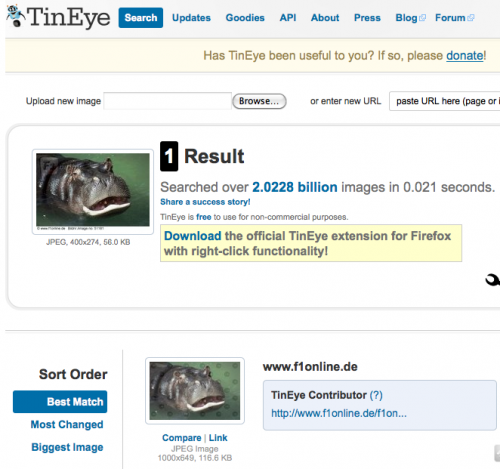 BROWSE / IN TIMELINE
« 2B. 2B. 2B.
» Toronto GirlGeek: the algorithms edition!
BROWSE / IN Attribution TinEye
« 2B. 2B. 2B.

SPEAK / ADD YOUR COMMENT
Comments are moderated.